Teats for bottles and mouthpieces
Feeding the child in the first months to years of life it is very important and it is the parents' responsibility to teach it healthy eating habits - for a trouble-free process of feeding your children, we offer teats for bottles and mouthpieces, which they support natural fit.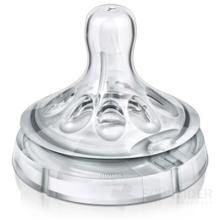 Soft silicone pacifiers, Y cross-section, for porridge. They allow suction by the same technique as during breastfeeding, reduce the risk…
JN
Jozef N.
29.10.2021 13:33
I am satisfied with the shopping and delivery, good prices and promotions, the overview page can quickly find products
AD
Agáta D.
25.10.2021 16:19
Convenient and fast shopping.
The outlet in PO works around the clock, parking right in front, speed, good prices